Meekatharra
" A Journey From Gold Dust to Bulldust"
The book is an autobiography covering a 5 year period of exploration ending in 1976. The author, (given the name Don Woodhouse in the book) is hired to explore for gold in WA by Mines Administration (Minad). By 2011, the Meekatharra areas had produced over 4.5 million ounces of gold & the field still had 559 000 ounces of reserves with more being added as the price rose but Minrad never established a mine themselves as they were a few years to early, beaten by mine inflation, a falling gold price in 1976 and a board who could see no future in gold when they were already sitting on some oil wells and the massive Hail Creek coal deposit.
Minad's success in locating gold was due to the knowledge of an old prospector, Lou Rinaldi and in numerous prospecting trips throughout WA, many interesting characters and situations occurred, including:
John K Dixon, the messianic salesman who transferred his amazing skill at selling cars to selling mines and made a fortune without actually producing anything.
The "Golden Arc" syndicate who knew how to fleece simple geologists.
The hard working Ottey. "No gold mind you, of course." Content to spend his years happily mining a barren quartz reef.
"Phantom gold" panned from Lassiter's lost reef?
Green, the master of dissimilitude and exaggeration, who learnt his trade searching for Lasseter's lost alluvials and after meeting the Minad team, used this new-found knowledge of gold to look for Lasseter's lost reef, with a similar end result.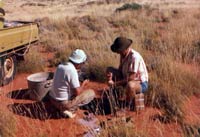 Front cover of book shows Lou panning off and Bob dollying the next sample


Preview an excerpt of Meekatharra
Buy Meekatharra from Amazon.com.au by following this link
Kiwis Sinners and Saints
" Tall Tales Under Canvas"

When a geologist looking for gold in North Queensland hires a new exploration crew, the stage is set for some unusual events. There is Jim, an out of work Kiwi butcher who has never been in the bush before; Art, an overweight lay-about and boaster who turns out to be worse than useless, and Chas, a saint who has enough equipment to run a BHP exploration camp, except its use-by date is long gone. It is a team that would test the patience of a saint. Fortunately one is present.

Interspersed with some sharp card gambling practices there is a rotten egg episode, a tangle with a razorback boar, hallucinogenic mushrooms, floods, the '87 stock market collapse, a helicopter crash, some unusual affairs of the heart and many other episodes; (they even find some gold). In this tongue-in-cheek account by veteran geologist Robert Pyper, he describes the trials of a field exploration geologist over an 18-month period. It is a book designed to gladden the heart and keep you chuckling page by page.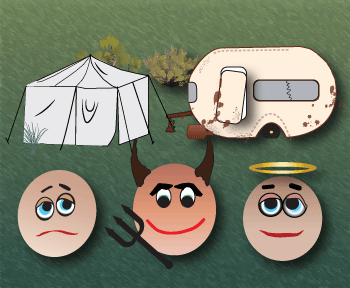 Front cover of Kiwis Sinners and Saints


Preview an Excerpt from Kiwis Sinners and Saints
Buy Kiwis Sinners and Saints from Amazon